Introduction
#1
HubSpot
Blogger Profile: Founded in 2004 by a group of MIT graduate students, who wanted to make the marketing a sales process human and build a community for people to obtain their business goals.
Fun fact: Priding itself on its "culture code" and relaxed approach, HubSpot caters to veteran marketers, as well as beginners; with crash courses in marketing, sales, and service.
#2
Duct Tape Marketing
Blogger Profile: John Jantsch, small business marketing consultant, founded Duct Tape Marketing in 2007 when he came to the realization that smaller businesses should have the same opportunities as the "big dogs".
Fun fact: Duct Tape Marketing creates many resources for its readers, some including; the Consultant Toolkit, podcasts featuring marketing professionals, and a jumpstart marketing strategy guide.
#3
Quick Sprout
Blogger Profile: Neil Patel, has always called himself an entrepreneur and has a vast amount of knowledge on the internet marketing sector. Patel has helped many startups become successful through his consulting.
Fun fact: : Patel started his entrepreneurial journey by selling burned CDs to his high school class. After learning that this could potentially be an "illegal" practice, Patel chose to move onto the corporate world by getting his first job at Knott's Berry Farm.
#4
Copyblogger
Blogger Profile: Founded in January 2006, Copyblogger (aka Rainmarker Digital) started out as a one-man blog that eventually turned into something bigger. This team of unique professionals creates a lucrative resource for content marketing.
Fun fact: Copyblogger built their company with content marketing; the EXACT same thing they are teaching. This valuable resource helps those in the marketing field gain knowledge on what will grab today's society.
#5
Seth's Blog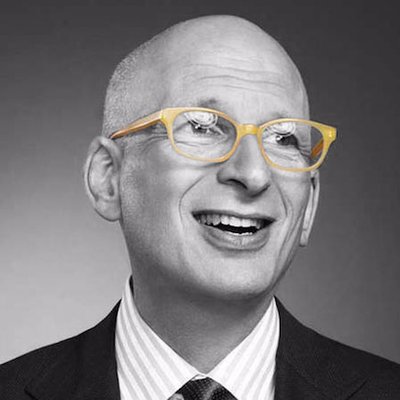 Blogger Profile: Seth Godin is an author, speaker, and entrepreneur. Godin focuses on the marketing and leadership sector of a business. Not only is he a blog writer, but he has written 18 best-sellers.
Fun fact: Godin was inducted into the Direct Marketing Hall of Fame in 2013. And his most recent accomplishment, in May 2018 Godin was inducted into the Marketing Hall of Fame.
#6
Adweek
Blogger Profile: Adweek has been in production since 1979, with its main focus being advertising trading. This publication holds a series of blog networks that reports on the mass media industry.
Fun fact: Adweek holds webinars regarding creative advertising strategies to reach the masses. Recently, Adweek has announced its first ever Brandweek which will be a three-day symposium focusing on the challenges of branding in today's market.
#7
WordStream
Blogger Profile: Founded in 2007 as a Premier Google Partner, WordStream focuses on developing online marketing software, managed PPC advertising services, and distributes marketing advice.
Fun fact: WordStream is available to deliver customer requests quickly and on-demand as it is part of the cloud. They have also won the Google Premier Partner Innovator Award for the USA and the Google Premier Partner Growth Champion award.
#8
Search Engine Journal
Blogger Profile: Established in 2003, Search Engine Journal is comprised of a network of professional online marketers, sharing the latest on best practices and what is trending in the online marketing sector.
Fun fact: Search Engine Journal has been featured in a number of prestigious publications and networks, such as; CNN, The Huffington Post, and Forbes. They also have several EBooks to guide beginners in the world of online marketing.
#9
Marketing Land
Blogger Profile: Founded by Danny Sullivan and Chris Sherman, Marketing Land posts articles on the daily. Articles are written by a collaborative group of professionals, covering everything from the latest news to product changes in the digital marketing industry.
Fun fact: Marketing Land not only has beginner's guides and webinars featuring advertising, content marketing, etc., but there is also the MARTECH Conference where marketers gain new strategies to practice.