Introduction
#1
Baby Chick
Blogger Profile: Nina Spears, The Baby Chick, takes us from pre-motherhood, through birth and postpartum, to parenting, asking the questions all parents ask, and getting the answers to help make the family-growing journey smoother and easier to enjoy, while offering fun advice and classic imagery of lifestyle designs for décor, DIY crafting, parties, recipes and personal style.
Fun fact: Nina's inspiration comes from six years of experience as a family baby planner, and personally assisting over 200 mothers throughout their pregnancies, births, and postpartum journeys.
#2
Rookie Moms
Blogger Profile: Whitney Moss and Heather Flett, experienced moms and published authors, offer their expertise to new moms and moms-to-be, starting from birth and going through preschool, with inspiring and informative articles on everything from activities that can be done with a child under two, to throwing post-pregnancy parties.
Fun fact: In 2008, Whitney and Heather co-authored their first book, The Rookie Mom's Handbook: 250 Activities to Do with (and Without!) Your Baby, sold on Amazon.
#3
The Military Wife and Mom
Blogger Profile: Military wife and mom, Lauren, has created a comprehensive collection of resources for both parents and military wives alike, with tools to help create a peaceful home, have connected relationships with kids, conquer deployment, build a rock-solid military marriage, and anything needed to help parents or military spouses achieve their family goals.
Fun fact: Lauren currently lives overseas with her active-duty, Marine husband and their two kids, ages 2 and 4, in Okinawa, Japan.
#4
Family Focus Blog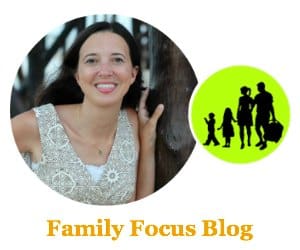 Blogger Profile: Scarlet, an Ecology, Evolution, and Organismal Biology major, now stay-at-home-mom of two, is creating a place where parents can find any possible parenting resource they are looking for, with valuable contributions from an impressive community of stay-at-home parents, not just moms, who have varying backgrounds and interests from which they share their knowledge.
Fun fact: Scarlet's blog currently has over 160,000 fans across all major social media platforms, including but not limited to Facebook, Pinterest, Twitter and Instagram.
#5
Survival Mom
Blogger Profile: Lisa Bedford, original survival mom and homeschooling mother of two, draws from her former experience in classroom teaching, event planning, sales and training, to help moms worry less and enjoy their homes and families more, sharing vital information she is learning on her journey to becoming more prepared to handle everyday emergencies and worst case scenarios.
Fun fact: As a super-newbie blogger, Lisa launched her blog in 2009, and it is now helping and entertaining more than 220,000 visitors each month.
#6
MomsRising

Blogger Profile: The MomsRising Team, hailing from all 50 states, is unified by a mission of increasing family economic security, decreasing discrimination, and building a nation where both businesses and families can thrive, inviting mom supporters to take action and be heard on campaigns promoting everything from maternal justice, to healthy kids, gun safety, workplace justice, and more.
Fun fact: MomsRising started as a handful of women, and through word of mouth, became hundreds, then thousands, and now is more than a million members strong and growing.
#7
Mommy Lessons 101
Blogger Profile: Your blogger profile will appear here. This is where we will discuss your biography, some information about your blog, and the kinds of content readers can expect when visiting your blog. Whether you prefer to write this bio yourself or have our team of writers take care of it, we'll make sure you're displayed exactly the way you'd like.
Fun fact: All bloggers have a unique story. Here is where we add a bit of color to your bio and show readers what makes you and your blog unique. Again, you can choose to provide this bit or have us write it for you!
#8
The Soccer Mom Blog
Blogger Profile: Stacy Garska Rodriguez, loving wife and mother of two, with a third child on the way, wants to share her successes in motherhood with real food recipes, tips on positive parenting, pregnancy, breastfeeding encouragement, money-saving tips, kids' activities, home hacks, DIY tutorials, and anything that will inspire other parents to live positively.
Fun fact: Stacy started out as a theater major at West Virginia University, followed by late party nights as a bartender, until she decided to start a family, filling in what she felt was missing in her life.
#9
Scary Mommy
Blogger Profile: Scary Mommy is a community of millions of parents from all over the world, who have been brought together by a common theme: that parenting doesn't have to be perfect, offering carefully selected, helpful community content to answer popular questions on subjects such as pregnancy, kids, better living, and trending social issues related to parenthood.
Fun fact: Scary Mommy was started by Jill Smokler as an innocent online baby book to chronicle her stay-at-home-mom experience, and was acquired and enhanced by Vinit Bharara of the media company, Some Spider.
#10
Mamavation
Blogger Profile: Leah Segedie, food activist, social media consultant, and mom, shares her post-pregnancy story of losing over 100 pounds through exercise and healthy eating, creating a community of mom contributors who have helped Mamavation members lose over 3500 pounds combined, by giving proven advice on food, and health, and sharing actions anyone can take to inspire a healthier food industry.
Fun fact: Leah has been referenced and awarded in hundreds of blogs and publications, and she was given the title of "Mom of the Year" by Shape Magazine for sharing her accomplishments.